Profile
Author:Barbie Mcghay
Welcome to FC2!
Hallux Valgus Causes Treatment
Overview

When the big toe is misaligned, it creates an unnatural bump on the inside of the forefoot (see image below). In addition to being unsightly, the lump or bunion can cause pain and make buying shoes difficult. Some people are born predisposed to bunions. But most people acquire them over time from ill-fitting footwear that squeezes the big toe inward toward the other toes. About four out of five bunion pain patients are female, a near perfect fit for the bad shoe theory. The good news, Bunions can be corrected, often with better-fitting shoes and custom orthotics. There are also some cases that cause severe bunion pain and do not respond to conservative treatment. For those patients, bunion surgery called bunionectomy may be necessary.

Causes
Contributing factors may include excessive foot pronation, wearing tight and pointed-toe shoes, and occasionally trauma. Joint misalignment causes osteoarthritis with cartilage erosion and exostosis formation, resulting in joint motion being limited (hallux limitus) or eliminated (hallux rigidus). In late stages, synovitis occurs, causing joint swelling. In reaction to pressure from tight shoes, an adventitious bursa can develop medial to the joint prominence, which can become painful, swollen, and inflamed.
SymptomsRedness, swelling, or pain along the inside margin of the foot just behind the great toe. Moderate to severe discomfort at the bunion when wearing shoes, particularly if tight fitting. A painful callus may develop over the bunion. Sometimes a painful corn on the adjacent sides of the first and second toes. Irritation if there is overlapping of the first and second toes. Arthritis may cause stiffness and discomfort in the joint between the great toe and the first metatarsal. There may be a fluid filled cyst or bursa between the skin and the "bunion bone". Skin over the bunion may break down causing an ulceration, which can become infected.

Diagnosis
A doctor can very often diagnose a bunion by looking at it. A foot x-ray can show an abnormal angle between the big toe and the foot. In some cases, arthritis may also be seen.

Non Surgical Treatment
In the early stages of the formation of a bunion, soaking feet in warm water can provide temporary relief. The best way to alleviate the pain associated with bunions is to wear properly fitting shoes. Shoes designed with a high, wide toe box (toe area) are recommended for people suffering from forefoot disorders, such as bunions. Shoes with rocker soles will unload pressure to the bunion area. Orthotics are also recommended for this condition to provide extra comfort, support, and protection. Other conservative treatments include using forefoot products designed to accommodate and relieve bunions such as bunion shields, bunion night splints, and bunion bandages. These conservative treatments can limit the progression of the bunion formation, relieve pain and provide a healthy environment for the foot.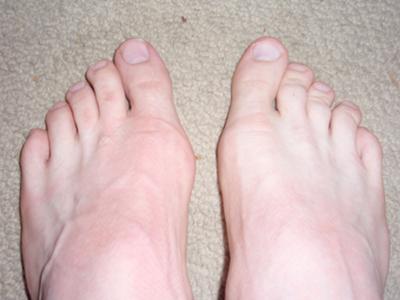 Surgical Treatment
There is more than one way to surgically treat a bunion. While there are some general guidelines, some procedures work well for some Surgeons and poorly for others. Your Surgeon should consider the severity of your bunion, medical condition, lifestyle, and recuperation time when considering the surgical treatment.

Prevention
To help prevent bunions be sure your shoes don't cramp or irritate your toes. Choose shoes with a wide toe box - there should be space between the tip of your longest toe and the end of the shoe. Your shoes should conform to the shape of your feet without squeezing or pressing any part of your foot. Avoid pointy-toed shoes.